THE Garden SUITE
On two floors with a queen-sized bedroom upstairs and a living room and private bathroom downstairs, our bright, airy Garden Suite sleeps 1- 4 people. There are two private entrances, including sliding glass doors opening onto large, private wrap-around porch. The downstairs living room includes a full-sized pullout sofa bed, a dining table, a mini refrigerator, a flat screen television, a coffee/tea maker, and a microwave. This end unit is air conditioned and is suitable for children accompanied by attentive adults. The Garden Suite is accessed by a small outdoor stairway of about 5 steps and also has an indoor staircase to the bedroom. For people with limited mobility, the pullout sofa bed can be used instead of the upstairs bedroom in order to reduce the number of stairs.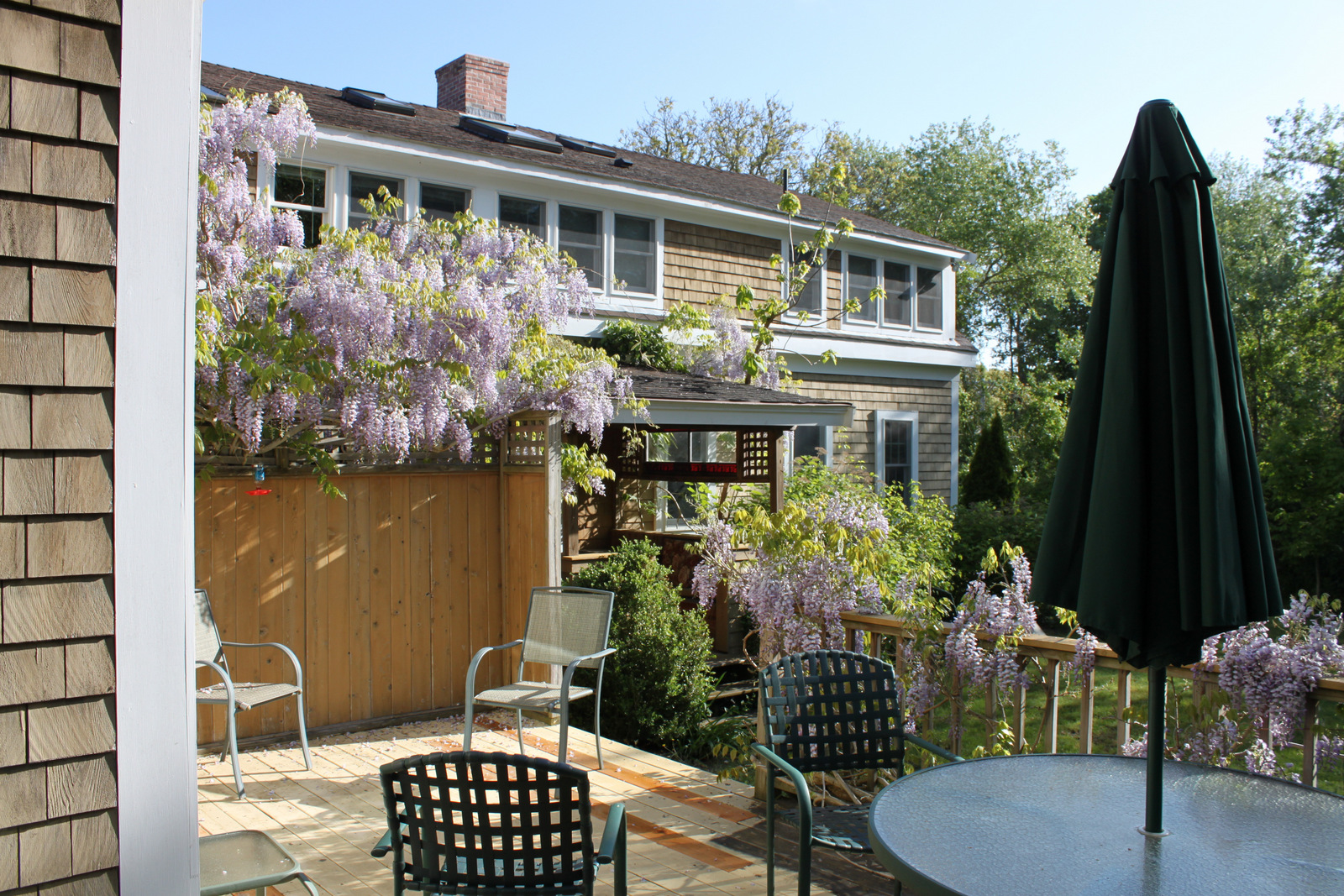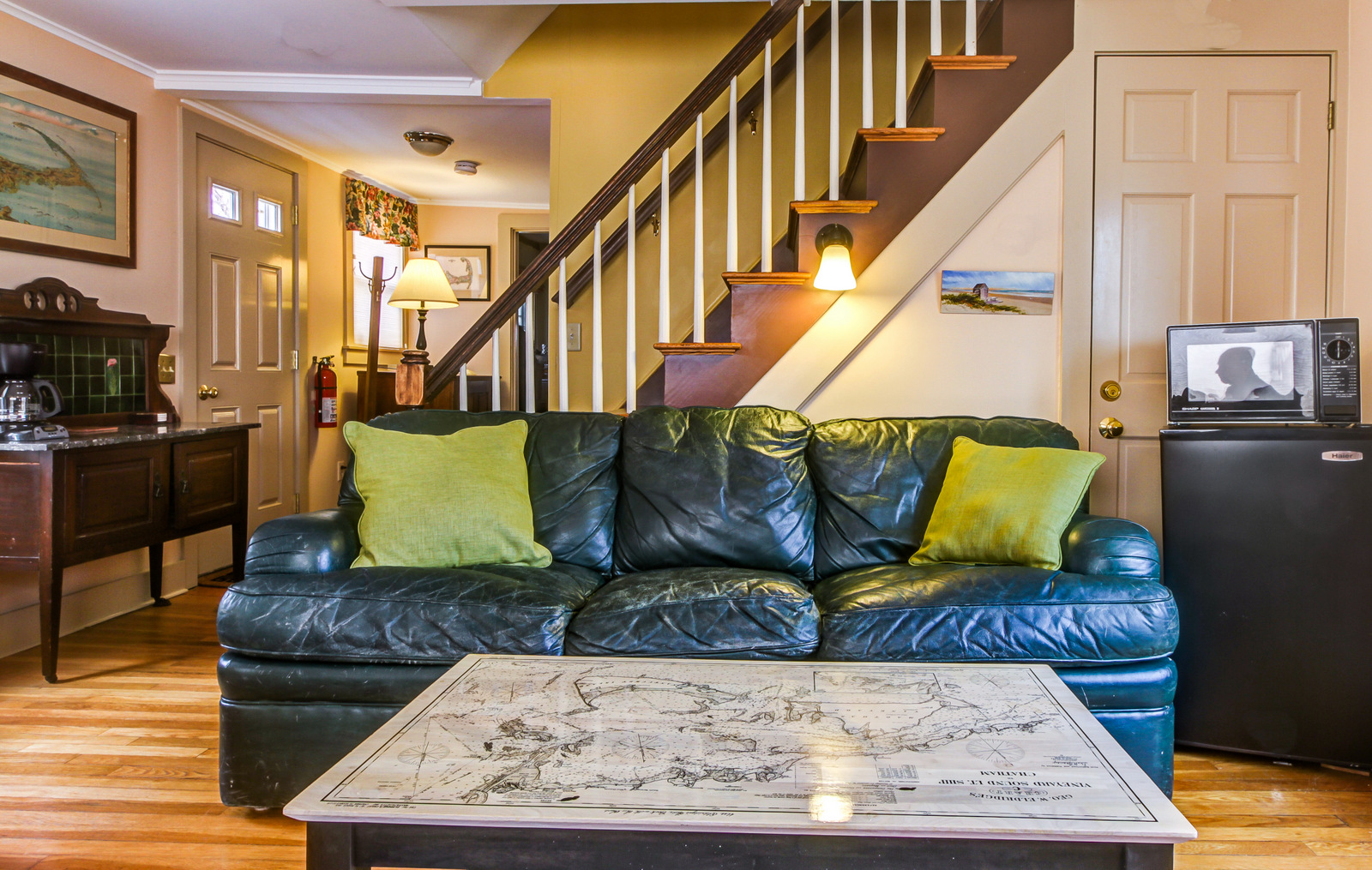 2 Floor Suite

Upstairs Bedroom

Private Bath

Shower / Tub

Air Conditioning

Flat Screen TVwith basic cable

Sky Lighting

Microwave

Free Parking
2 Private Entrances

Queen Sized Bed

Full Sized Sofa Bed

Free Wireless Internet Access

Dining Area

Large, Private Wrap Around Deck with Furniture

Deck Area Overlooks Garden

Coffee Maker

Mini Refrigerator
Review of Our Garden Suite
"Chatham Guest Rooms - A Wonderful Experience!"
We celebrated our 40th wedding anniversary here in the Garden Suite during our stay of 4 days on the Cape and nothing could have been more enjoyable. Bob, Danielle and the entire staff are extremely customer-focused, responsive and genuinely committed to you making the most of your stay with them. We would highly recommend Chatham Guest Rooms and we hope to return again in the future!
Green Features: Top notch and committed to your stay being "eco-friendly" in all aspects of their establishment without being overt or pushy about it.
(Date of Review 05/2014 Source: TripAdvisor)
General Information - Each of our non-smoking rooms overlooks our garden and offers maximum privacy with a separate entrance. Wireless computer access is available throughout the building. Please note that we are a guest house, offering clean, comfortable rooms at a great value, with in-room coffee and tea makers. No breakfast is offered, but there are plenty of great places to eat nearby!
We are happy to provide information, lend guidebooks and maps, and help you to become aquainted with our area in order to make the most of your stay.
Rates range from $125 to $175 for the Garden Suite dependent on season and holidays. These rates are based on one or two people sharing one bed- additional beds or people are subject to additional fees.
Cash/ Checks/ MasterCard/ Visa accepted.
Gift Certificates are available.

Reservation and Cancellation Information:
Rates are subject to change without notice and are only guaranteed with a paid deposit.

Daily rates are based on 1-2 people, one bed. An additional $25.00 per night fee, per extra person (of any age- yes, babies are people too!) and/or extra bed applies. That is:

Base rate= 1 or 2 people sharing 1 queen bed.

Base rate + $25 = 2 or 3 people using 1 queen bed and 1 pull-out bed (per night).

Base rate + $50 = 4 people using 1 queen bed and 1 pull-out bed (per night).

Check-In time is after 3:00pm and check-out time by 11:00am. If you will arrive later than 5pm, please provide us with your approximate arrival time so that we can be available to welcome you.

A 12.45% Room tax does apply. This is not included in room rate.

A two-night minimum stay is generally required, with three nights required during our peak and holiday seasons. Additional charges may apply if stay is less than the minimum night stay requirement.

The guest rooms and main building are all non-smoking.

A 100% deposit is required for peak season, short stays, holiday stays, and stays booked within 30 days of the arrival date.

A 50% deposit is otherwise required, with the balance due at least 30 days before arrival.

Cancellations made prior to 30 days before arrival will be eligible for a refund, less a $50 reservation processing fee. Cancellations made 14-29 days prior to arrival or for a shortened stay will be eligible for a credit of the number of booking days to be used in the off-season within one year. This is a one-time, non-transferable credit and does not apply to holidays. Any reservation cancelled within 14 days before arrival will only be eligible for a credit for a future stay if a room is reserved at the time of cancellation.